Comprehensive Dental Care for Cats & Dogs
Routine dental care is a critical component of cats' and dogs' oral and overall health, but most pets don't get the oral hygiene care they need to keep their teeth and gums healthy. 
Our approach to veterinary dentistry starts with regular dental cleanings and exams when your pets are young. We recommend regular dental checkups and cleanings at least every 1 to 2 years in most cases. Some pets, however, require more frequent cleanings.
At Marcello Veterinary Hospital, we offer dental exams, cleanings, and extractions to help your furry friends stay in tip-top shape. We also make a point of providing dental health education to pet owners about home dental care for their pets.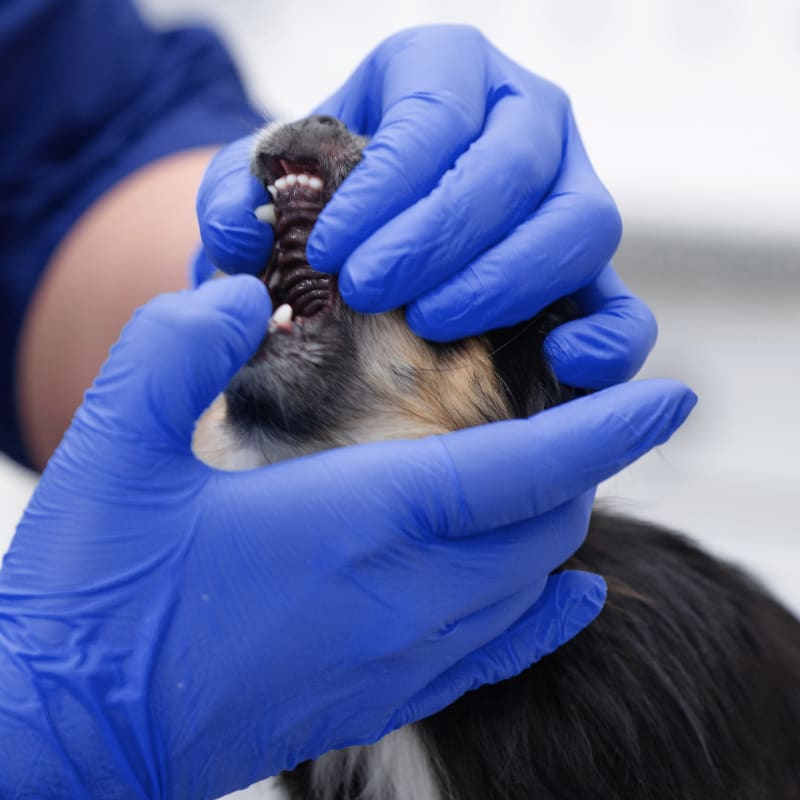 Dental Surgery in Houma & Raceland
We understand that finding out that your pet needs dental surgery can be overwhelming. We strive to make this process as stress-free as possible, for you and for your pet. 
We'll do everything we can to ensure your pet's experience with us is comfortable and easy. We'll break down each step of the process to you in detail before the procedure, including preparation and post-operative care requirements. 
We offer jaw fracture repair surgeries, tooth extractions, and gum disease treatment for dogs and cats.
Pet Teeth Cleaning & Exams
Much like your annual checkup at the dentist, your dog or cat should come in for a dental examination at least once a year. Pets who are more prone to dental problems than others may need to see us more often. 
During your pet's dental exam, we will look for signs of disease such as fractured teeth, worn areas of enamel due to chewing, retained "baby" teeth, plaque, tartar, inflammation of the gums (gingivitis), abnormal growths or masses of the gums or mouth, tooth discoloration, infected teeth, and more.
We will then determine if a professional cleaning or further treatment is necessary.
FAQs About Pet Dental Care
If this is your first time bringing your pet to Marcello Veterinary Hospital for a dental appointment we know that you are bound to have questions.
Please take a few moments to read through the answers below to some of the most frequently asked questions from our clients about pet dental care.
Need more information? Contact us - we are always happy to answer our clients' questions. 
Veterinary Dentistry: Anesthesia & Your Pet's Oral Health
General anesthesia is required for your cat or dog to receive the most complete and thorough cleaning possible.
We know that this is a concern for pet owners, and we are committed to the safety and well-being of your four-legged family member. Because of this, prior to the procedure, we perform pre-anesthetic blood work for all animals over the age of 7. All pets placed under general anesthesia during the dental procedure are supervised by one of our specially trained technicians dedicated to monitoring respiration, heart rate, and blood pressure throughout the entire process.